Welcome to the Nekopara Wiki! Happy editing!
Featured Article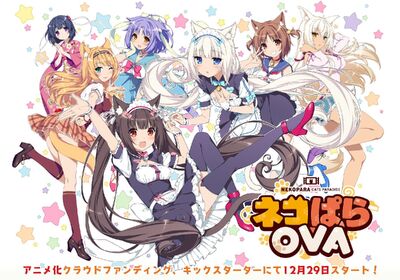 Nekopara OVA (ネコぱらOVA?) is an upcoming OVA (Original Video Animation) based off the Nekopara series. It is planned to be release in 2017 spring.
The premise will be based on the entire Nekopara Vol. 1 plot, with original elements added specifically to the anime release. It was confirmed on January 11th that the OVA will be a 60-minute length animation.
Main article: Nekopara OVA

News
• January 11th, 2017 - Nekopara OVA goals met!!!
The official Nekopara OVA kickstarter reached all goals and made it to the stretch goal of $500k to make a full 60-minute OVA!! Thanks to all the Neko fans out there, we'll be getting an hour long OVA for Nekopara, good job everyone! They've added additional stretch goals as well, feel free to visit the kickstart via the link below.
---
• December 28th, 2016 - Nekopara OVA Kickstarter!!
The Nekopara OVA kickstarter is live!!! Show your support and love for Nekopara! Link to the Kickstarter can be found here: Nekopara Anime OVA Kickstarter
---
• December 9th, 2016 - Nekopara OVA announced!
Announcement for the Official Nekopara OVA (Original Video Animation) has been announced on the Nekopara Twitter! along with a teaser website that was created that can be found here: http://nekoparaova.com/ - a kickstarter campaign is set to start on December 29th.
---
Contribute to this wiki
If you are new to wikis, check the getting started information page. Then please sign up for a FREE personal account or login, if you already have one.
---
If you already have editing experience and you have an article relating to NEKOPARA
use the box below to create it:
---
If you're looking to help with Clean up, you can start here:
Stubbed pages • Wanted pages • Broken redirects
Poll
Are you excited for possibility of an OVA being made of Nekopara?
Ad blocker interference detected!
Wikia is a free-to-use site that makes money from advertising. We have a modified experience for viewers using ad blockers

Wikia is not accessible if you've made further modifications. Remove the custom ad blocker rule(s) and the page will load as expected.