Nekopara OVA




Additional Information

Run time

60 minutes

First Release

TBD

Nekopara OVA (ネコぱらOVA?) is an upcoming OVA (Original Video Animation) based off the Nekopara series. It is planned to be released in December 2017.[1]
The premise will be based on the entire Nekopara Vol. 1 plot, with original elements added specifically to the anime release.
What's NEKOPARA? Why it's a cat paradise!
Kashou Minaduki, the son of a long line of Japanese confection makers moved out to open his own shop "La Soleil" as a patisserie. But upon moving out, hidden amongst his things were two of the catgirls, Chocola and Vanilla, that the family had been raising. When he tried to send them back, they begged and pleaded until he gave in and now they've opened La Soleil together. With two catgirls who really, REALLY love their master trying their very best and occasionally failing -- a heartful comedy opens for business!
The NEKOPARA OVA will be based on NEKOPARA Vol. 1's storyline while adding in many original elements specific to this new production. Enjoy exciting new antics and reminisce on nostalgic moments from the visual novel with the nekos of La Soliel!
Characters
Edit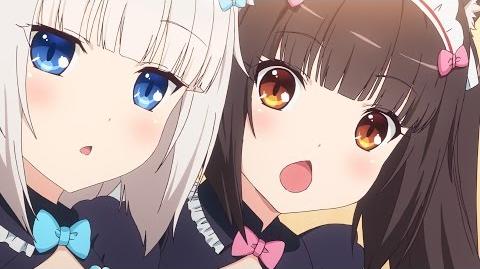 References
Edit
↑ Anime News Network. (2016, Dec 29). Nekopara OVA Kickstarter Launches, Meets Goal in 1 Hour. Anime News Network. Retrieved Dec 30, 2016.
↑ Sekai Project. (2017, Jan 11) NEKOPARA Anime OVA by sekaiproject — Kickstarter. Kickstarter. Retrieved January 12, 2017.
External Links
Edit
Ad blocker interference detected!
Wikia is a free-to-use site that makes money from advertising. We have a modified experience for viewers using ad blockers

Wikia is not accessible if you've made further modifications. Remove the custom ad blocker rule(s) and the page will load as expected.