Catgirls (also known as nekos (ネコ, cat in Japanese)) are a species of cat-human hybrids that live alongside humans in the Nekopara universe. Catgirls were once left homeless and living in the streets, but now they are domesticated by humans and aren't allowed to go anywhere by themselves without their masters unless they have bells. Catgirls are a humanoid species with some cat features (ears, tail, etc). They also have breeds akin to cats. In addition, they have mating seasons. Though they can't mate with humans, they can be romantic partners with humans in which they will be referred to as catpanions.
Known Nekos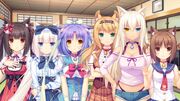 Trivia
According to a Q&A question in the Kickstarter for the Anime OVA, Catboys do exist.[1]
References
↑ Sekai Project. (2017 Jan 25). 600k Stretch Goal UNLOCKED & F.A.Q. Update #3!. Kickstarter. Retrieved June 9, 2017.
Ad blocker interference detected!
Wikia is a free-to-use site that makes money from advertising. We have a modified experience for viewers using ad blockers

Wikia is not accessible if you've made further modifications. Remove the custom ad blocker rule(s) and the page will load as expected.